A Special Profile Session Offer during this time of Social Isolation….
With many people currently working at home, or facing an unexpected change in their worklife, I wanted to offer a special 'Mini-Profile Session' in my local area to help affordably update your professional image.
For a short time, and only on a week-by-week basis (depending on weather forecasts and changes in social distancing rules) I'll be offering you the chance to book in a 'mini session' for 15 mins ($80*), half an hour ($150*) or full hour ($300*), depending on how many photos you need and how much you can afford. The price includes all images provided as high resolution digital files in Black and White, and in Colour, via a Dropbox link (or posted to you on a USB you provide at the session). Check out the details below to help you choose what length of session and also some conditions that apply.
In order for this to be a cost-effective offer, the price is valid in areas very local to me. They include my outdoor verandah space in Eden Hills for white backdrop images in natural light (I regularly use this technique for sessions with clients), the Tonsley precinct for 'business/urban' style backdrops, Wittunga Botanic Gardens for natural backdrops and Flinders Uni for a combination of both of the above.
You might choose to have a 15 min or 30 min session at one location (with some slight changes in outfit ie jacket on, jacket off, with or without neck tie etc) or choose to book two consecutive 15 min sessions to ensure some variety in your collection ie Some white backdrop photos at Eden Hills, then a natural or 'urban' style backdrop at either Wittunga or Tonsley. Both are within 5 mins of my home.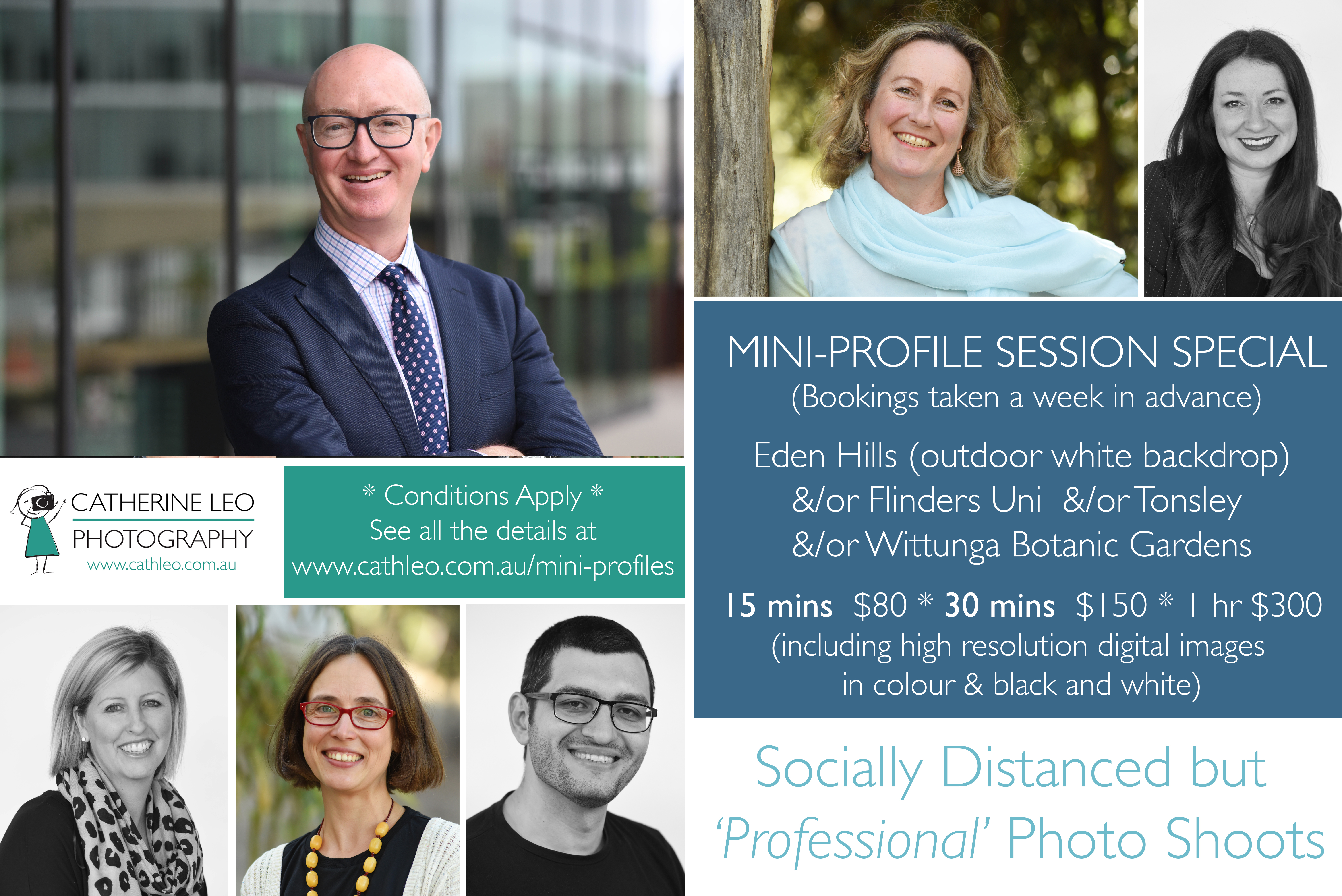 *Some conditions apply:
Session needs to be held outdoors in my local area (see suggestions above but that is negotiable). Further distances will incur my usual charges.
Social distancing practices need to be observed between us at all times. My favourite long lens requires 2m distance between us so that will not be difficult!
Deposit of $25 required at the time of booking with full payment required at the end of our session.
White Shirt Day photos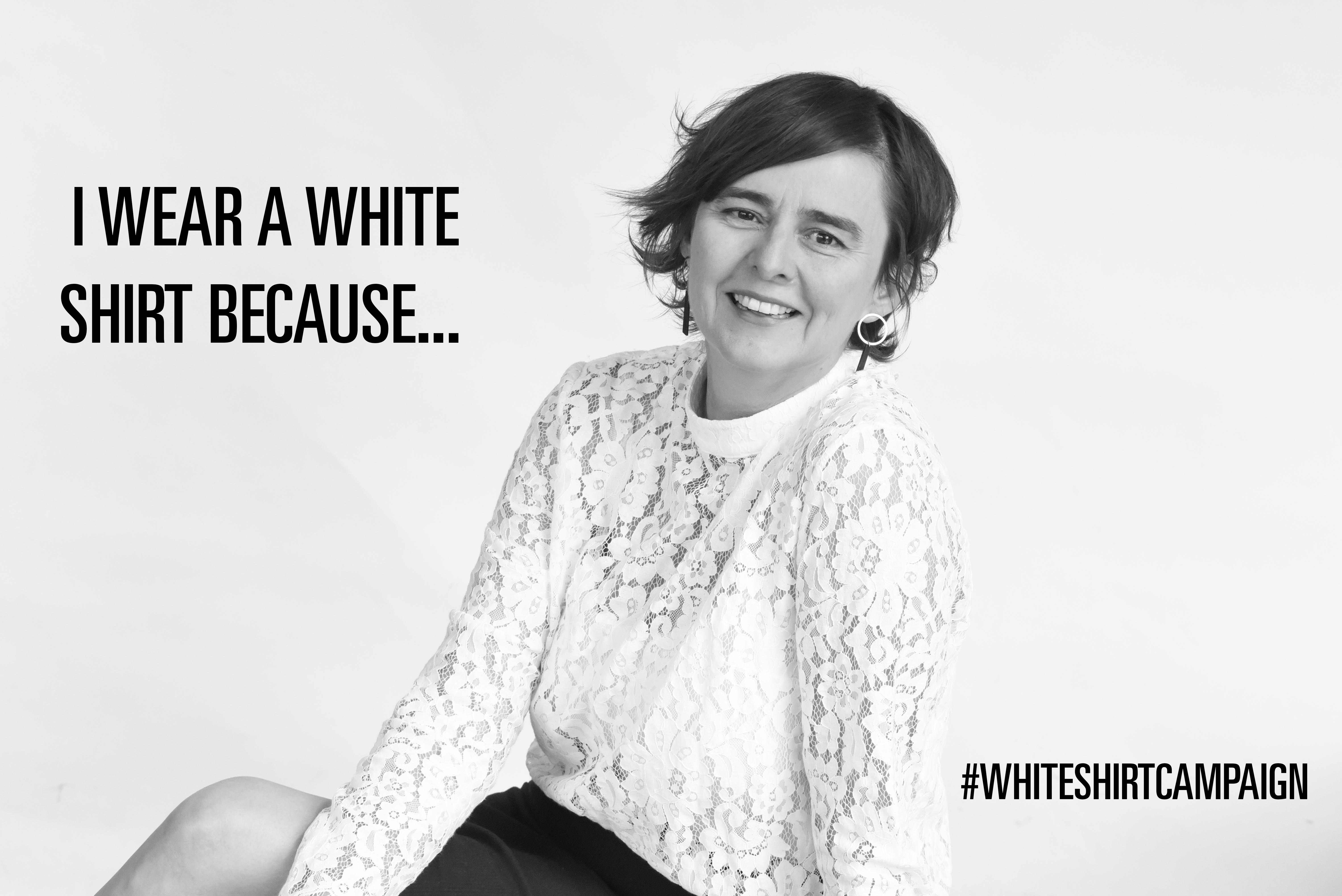 Each year I participate in a 'White Shirt Day' event organised by my friend Kel Pittman, who is a White Shirt Day Ambassador for the Ovarian Cancer Research Foundation. At those annual events I have offered mini shoots to guests to capture images they can share as part of the awareness raising campaign. Given that event is not going ahead during this time if any of those wish to come to my home for a white backdrop photo before White Shirt Day, I will donate $5 from every 15 min session, or $10 from every 30 min session to the OCRF. I can also add text to one image (see example) if required.  You could also arrange for a group to visit and have 5-10 mins each to share a 30 min session.
Here's one of my images ready to share for WSD!
Sharing a Session
If you have a friend or work colleague you would like to share a longer session with, either as individuals or for some group photos, please be in touch. Unless it is for the White Shirt Day offer above, please note it would usually need to be a minimum 30min session to divide into two successfully.'
Families
You can view the similar special deal I am doing for families here: www.cathleo.com.au/special
Bookings
Please contact me on info@cathleo.com.au to let me know what you are after, your possible location requests and any days that are available between 9 and 3pm between Monday May 4th and Thursday May 7th (forecast is looking great!).  I may continue the special for a short time after those dates however it is dependant on social distancing rule changes and weather, so I look forward to hearing from you ASAP if you would like to join in the special!