An update about my Special Offer during this time of Social Isolation….
Well it's been an interesting time these last few months. After nearly all of my work disappeared at the end of March with wedding and event cancellations, I started a mini-session special, while following strict social distancing measures. It worked a treat! Over 50 families had me visit their home (within my 15 min drive zone) or they travelled to one of my favourite local parks, to have some new family photos captured. I only booked as far in advance as I could see the forecast, and with some flexibility on both parts, we managed to book in lots of sessions!
Now that the cold weather is upon us, it's proving trickier to find the fine weather days that also match up with when most people are available (weekends) or when I'm mostly available (weekdays – with a few weekend options).  So while I'll continue to offer the chance to have a 'mini session' for half an hour ($150*) or my usual full hour at the special price of $300 (usually $350) during June and July, given it is largely a weather dependent opportunity I cannot guarantee I'll be able to book everyone in. Also I will continue to only book 7 days in advance so we can check weather forecasts and look for a reliably fine day.
As has been the case since I commenced in April, in order for this to be a cost-effective offer, the price is valid for areas within 15 minutes drive of Eden Hills, however I have many favourite park locations in my area that you can travel to. We can chat about the options!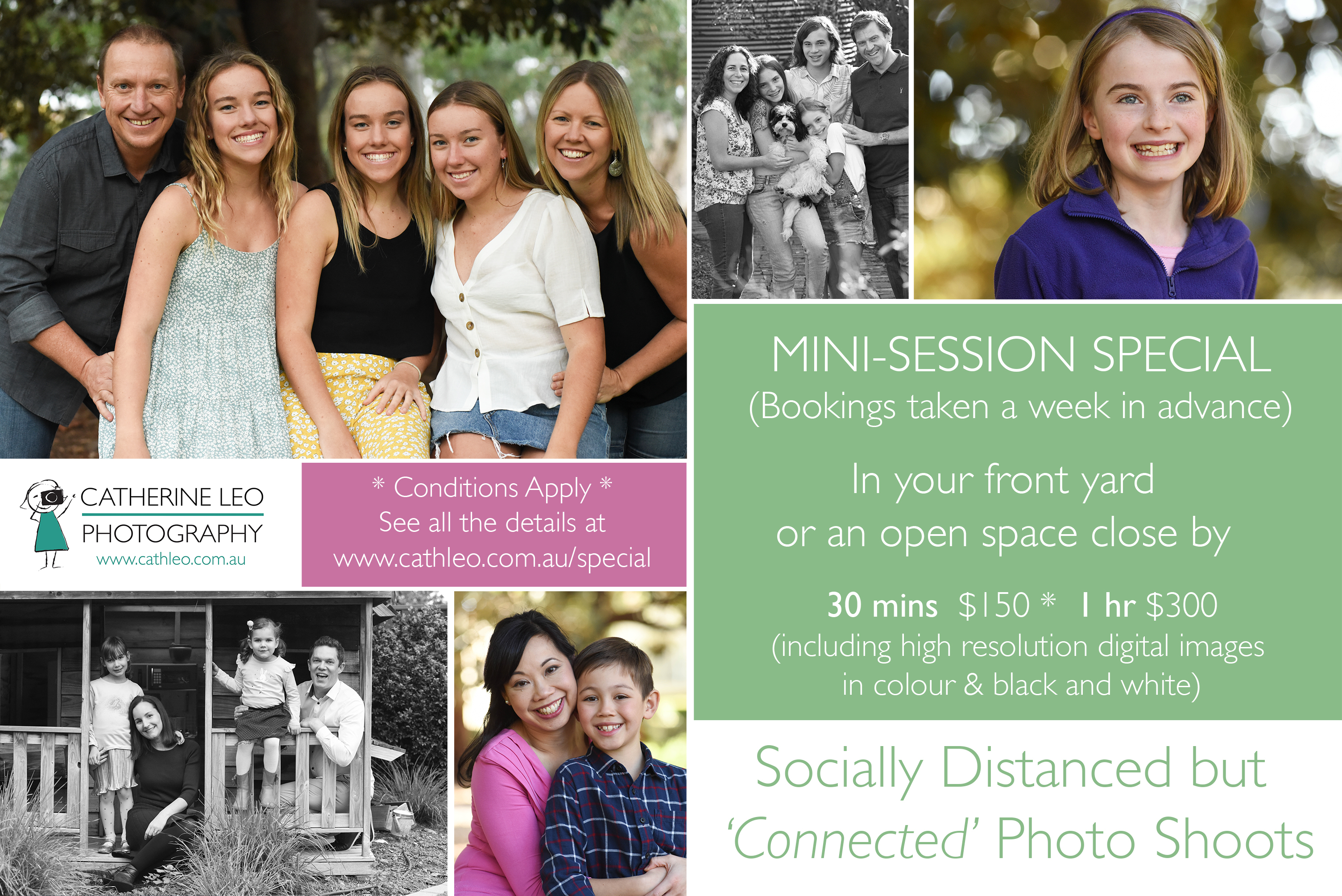 What could you expect with the different time frames:
Firstly, these are only suggestions as you are welcome to let me know what you most want to achieve out of your session (eg. a group photo of the kids, or all of you with your new puppy) and that can be my key focus while getting any additional images that I can.
30 mins – Photos of your full family, individual shots of the children, siblings together and potentially a few different family combinations like each child with each parent (depends on numbers, of course!). Bring the pet in for some photos too!
More time? – Booking an hour allows for the above but also more goes at different combinations, perhaps some more candid play captured, different settings. I find that some of the most rewarding shots are those that capture the spontaneous reactions of kids as they play or as family members interact and longer sessions give me time to capture these in a way that shorter sessions possibly can't. It's completely up to you and what you would love to capture!

Gifting a Session
You might have a neighbour or school friend in your neighbourhood who would love the chance to have a session, or perhaps a loved one you need a gift for! Consider booking them their own mini-shoot as a gift but make sure you check they are available and keen first, given it is a short-term offer only.

*Some conditions apply:
Session needs to be held outdoors in your front yard, or back yard if I can access it without entering your house, OR an open space close by (I can also suggest beautiful park locations).
Social distancing practices need to be observed between me and your family. You can cuddle each other as much as you like (!) however please advise children about the need to stay 1.5 m away from me.
Price is valid for areas within 15 minutes drive of Eden Hills, however if you can invite a friend or more in your neighbourhood to also book before or after your session, I may be able to honour the same price at locations further away OR I have many parks in my area I can suggest that you can travel to.
Deposit required at the time of booking. I can provide bank details.
And what happens when the Special ends?
Given the popularity of the mini-sessions I am considering making them a regular part of my offering, at a slightly higher price that reflects the work I put into them and the end product that clients receive. My photo sessions have always been great value (in my humble opinion! And the opinion of many others) so I feel comfortable returning to my regular fees as we emerge out of the Covid era. I will continue to hold my annual 'Family Session Days' during the peak months leading up to Christmas so look out on my Facebook Page for announcements about those.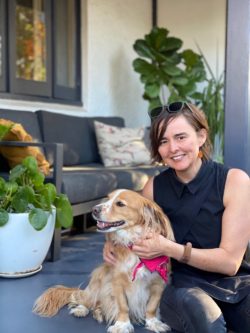 Please contact me on info@cathleo.com.au to request a time in the next 7 days, providing your suburb, number of people in your family, your mobile number and any suggested days/times that might suit. Feel free to outline what you had in mind for the session too. I look forward to hearing from you!
Thanks to my client Clare Lennon for the snap of me and Belly the dog when I was at their house recently!