Baby Session Voucher
Tori and Alex received a Photo Session Gift Voucher from Alex's mum Lynda when their baby Ava was born and we had a session at beautiful Heywood Park when she was about 9 months old. Gorgeous natural light and plenty of cuddles and kisses made for some gorgeous photos. Even got some cute shots of her having a good nibble on her shoe – ha ha.
Here's some examples, with many more in their final collection – all provided in Black and White, and in colour.
Please be in touch if you would like to book a session! Weekday sessions often only need quite short notice but weekends can be a little more in demand. Half hour sessions are available in my local area, or nearby (Blackwood and surrounds) however longer distances have an hour minimum.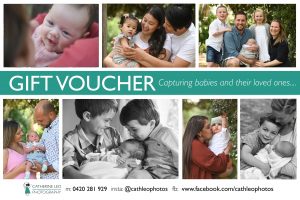 If you would like to arrange a gift voucher for the parents of a newborn please contact me via info@cathleo.com.au (& including your mob no). They can be a wonderful idea for a combined present from family members or groups of friends.